I am delighted to sponsor this writing award and to be a small part of the Windsor Fringe initiative that supports new writers. Without a good play or script, the best actors and directors in the world cannot hope to produce good work and I welcome the encouragement that this award offers to writers both local and international.
Kenneth Branagh
Karen Darville, Chair of Windsor Fringe, presents Suzanne Jeans, winning author, with the prize.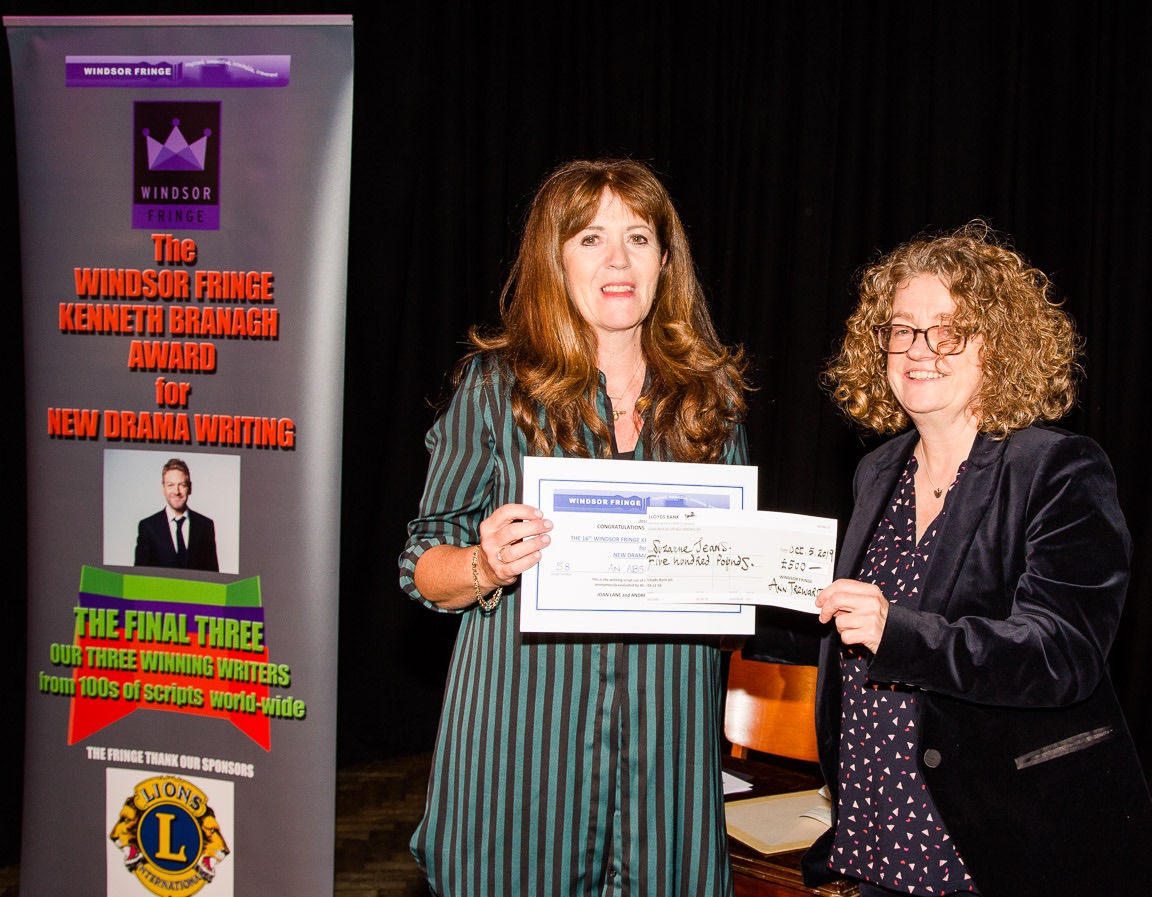 JUDGE: Joan Lane
AN ABSENCE OF by Suzanne Jeans
It started with the title; it aroused my curiosity. An absence of … what? Was it a single item or was it several? The question was soon answered in this contemporary drama about the decline in an elderly woman's ability to recall or to reason, coupled with the realisation by a reluctant daughter of what it means to become a carer. The play explores a topical and ongoing subject that is frequently aired in the media. The diagnosis of the onset of dementia is the first pebble to be thrown into a pond. As ripples spread from the impact, they gradually engulf an entire family, dividing its members, and often friends and colleagues, into 'present' and 'absent'.
The well-written and perceptive monologues, and the often-disturbing dialogue, deal skilfully with emotional turmoil in a difficult mother-daughter relationship as the ageing parent becomes dependent on a daughter filled with anxiety at the thought of being her parent's primary source of support. I suspect many of us will have witnessed this happening, if not in our own families, in that of others.
The writer's descriptive ability shines through in the exploration of Sally's innermost thoughts as reality dawns, or, conversely, as the realm of reality slips away. Never mawkish, the dialogue neatly illustrates the process of gradual self-realisation and understanding. A flair for language, coupled with an eye for detail and a talent for interpreting emotion, was evident in the writing from start to finish and determined for me where this play should stand. I am only sorry to be missing the performance. Well done.
JUDGE: Andrew C Wadsworth
AN ABSENCE OF by Suzanne Jeans
A very impressive piece of writing. The characters were all clearly defined and fully formed and their emotional development clearly explained. They all came with history and all had complex reasons promoting their behaviour
Sally- trying to rebuild a broken relationship that never was.
Jackie- a young woman resentful at being a mother and then using her second daughter as a weapon against her first .
Joanne- the favoured child, who because she was so loved, can't bear to watch or be involved in the decay of her mother.
A thoughtful and detailed piece of writing. I was very impressed with both the structure and the development of this piece of theatre.
3 writers: Pete Barrett, Suzanne Jeans (winner) Adam Colclough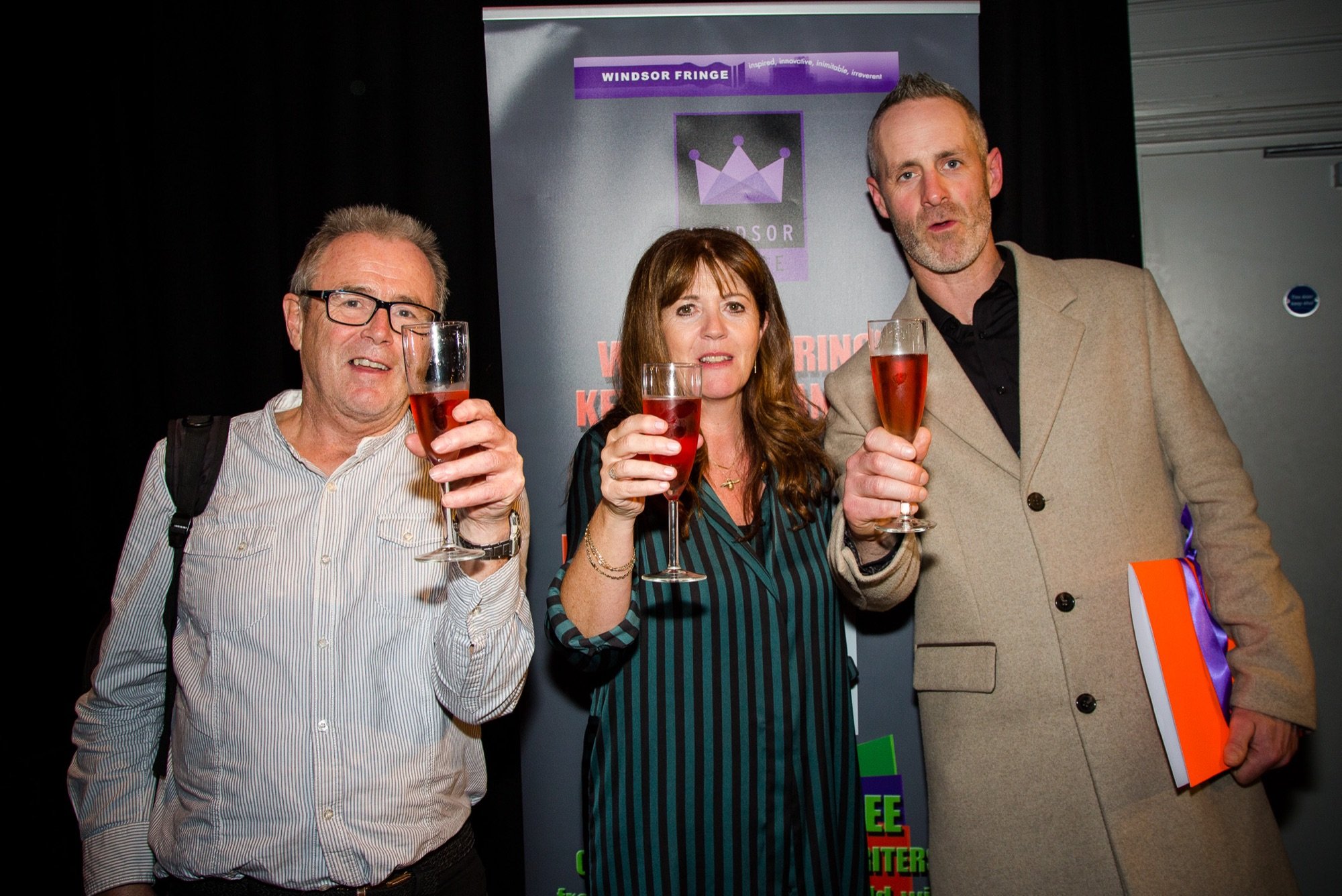 Cast, writer & director of winning play "An Absence Of": Sarah Lawrie, Suzanne Jeans (writer), Sophie Morris-Sheppard, Mike Duran, Barbara Phelps, Anthony Shrubsall (director) & Eloise Jones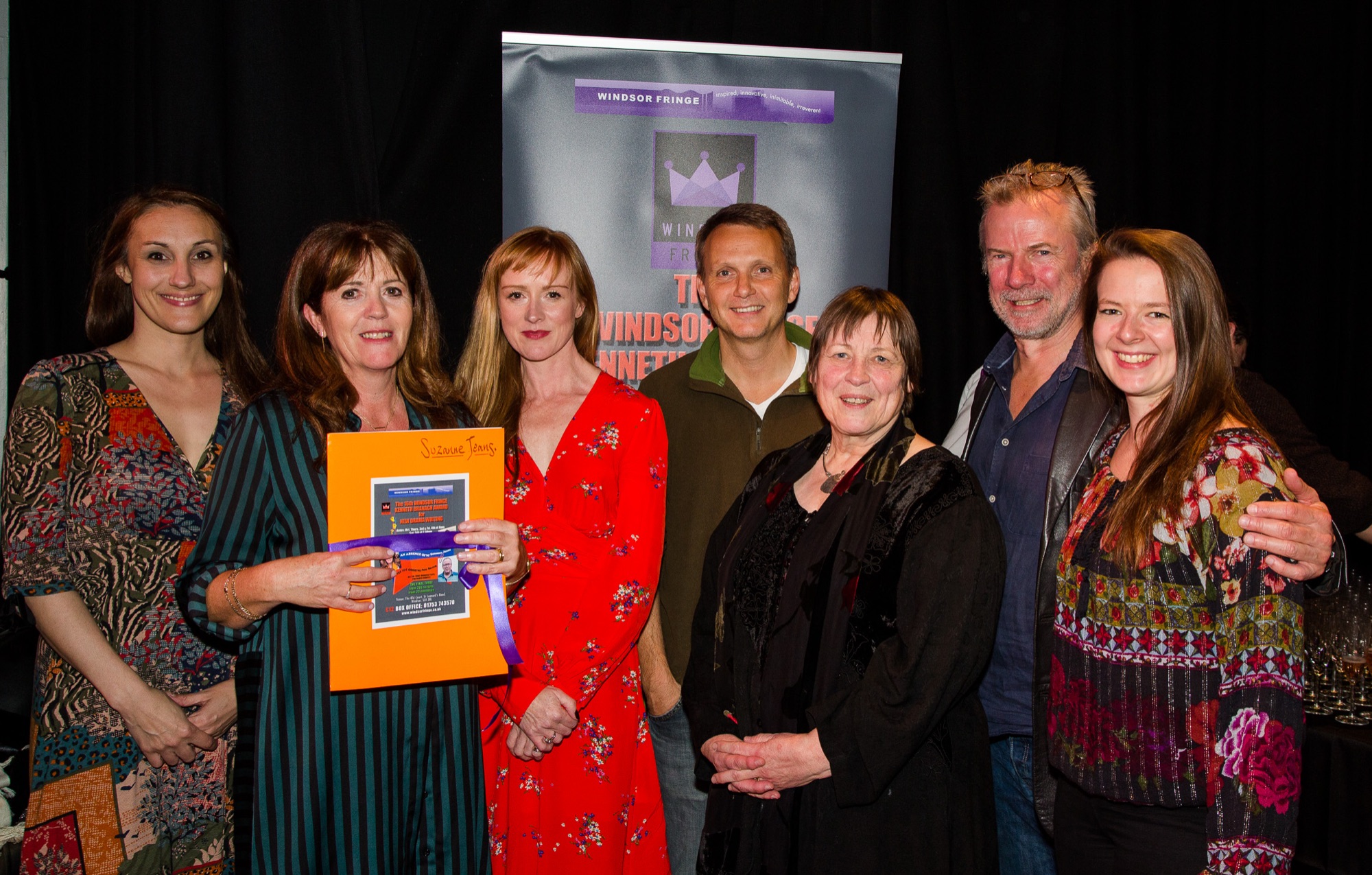 Thoughts on winning!
When I entered the competition all those months ago, I never even dreamed of making
even the longlist! 'An Absence Of' is the first play I've written and to have been declared
the winner on Saturday night in such esteemed company, is beyond all my expectations
and hopes. When I sat down to watch my play for the first time, I didn't know what to
expect. It was a privilege to see it brought to life and I am indebted to my director,
Anthony Shrubsall, for visualising and creating such a powerful and eloquent
interpretation. As the play is based upon my experiences over the last two years, I didn't
know how I would feel watching the characters I know so well, in the hands of someone
else. Watching Sarah, Barbara, Sophie, Eloise and Mike breathe life into their roles so
intuitively and sensitively was a real delight for me.
It was nerve wracking receiving the critique from the judges, but a valuable and
supportive part of the process. Meeting my fellow finalists, Adam and Pete, was a
pleasure, and I wish them every success with their writing in future. I feel extremely
fortunate to have been part of the competition this year and would like to express my
thanks to the whole 'behind-the scenes' team who make the Award possible. It has given
me the confidence to continue writing. I now hope to extend the play to a full- length
piece. The entire experience was thrilling and I would encourage all would-be writers out
there to enter next year. You just never know what might happen!
Suzanne Jeans
Cast, writer & director of "The Ice Queen": Paula Chitty (director), Elose Jones, Pauline Pericaud, Pete Barrett (writer), Emily O'Mahony & Thomas Deller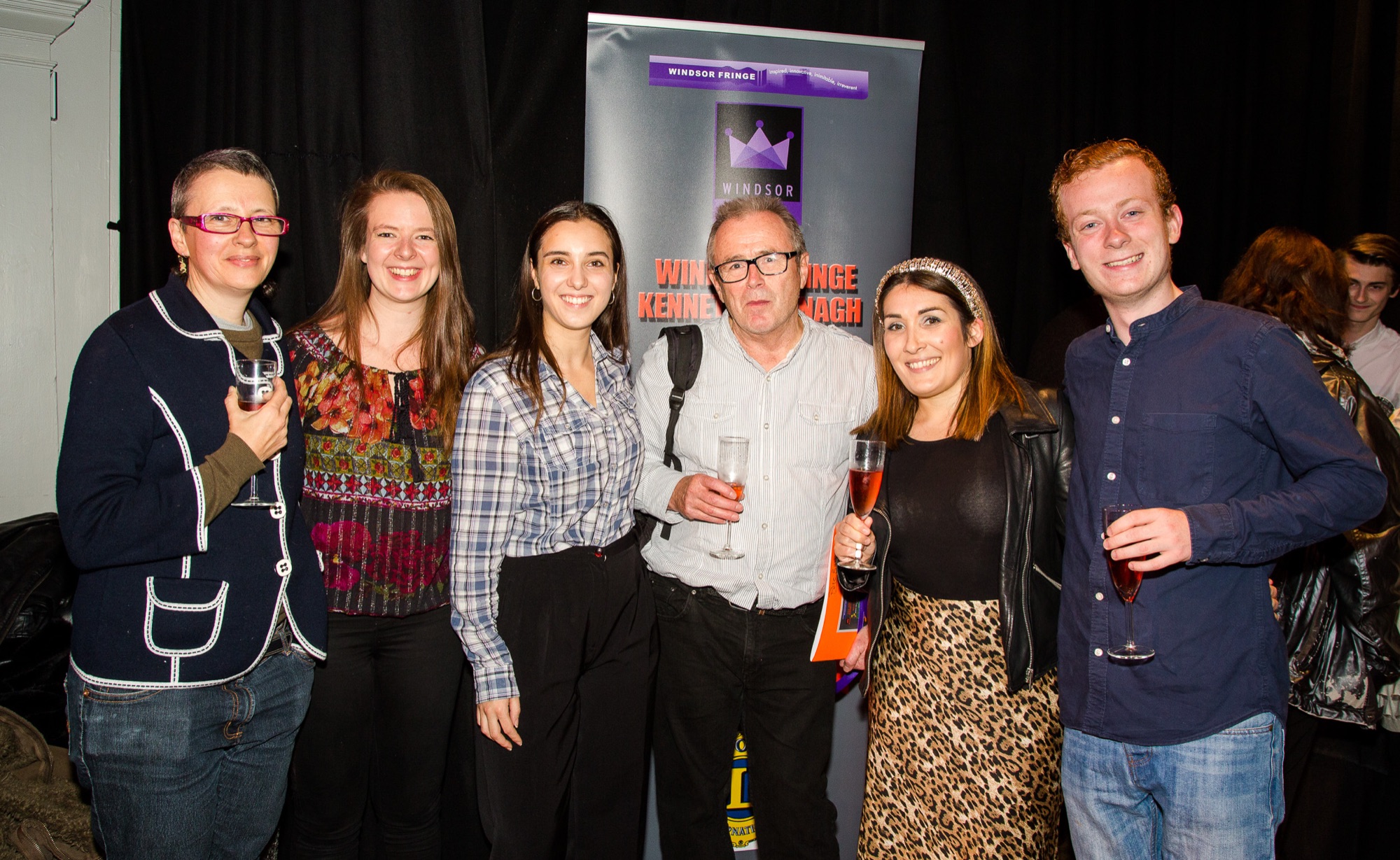 I've come close to the final in the KB competition twice in the past, but this is
my first time in the finals. I enter dozens of competitions each year, often
achieving the short list & sometimes win. But, despite being an amateur
prize, the level of professionalism in this event is fairly unique in terms of
production, publicity & professionalism. It has really been exciting and I'm so
pleased to have been part of it.
Pete Barrett
Cast, writer & director of "One, Two, TREE": Oliver Joseph-Brooke, Richard Elson (director), Zoe McVicker & Adam Colclough (writer)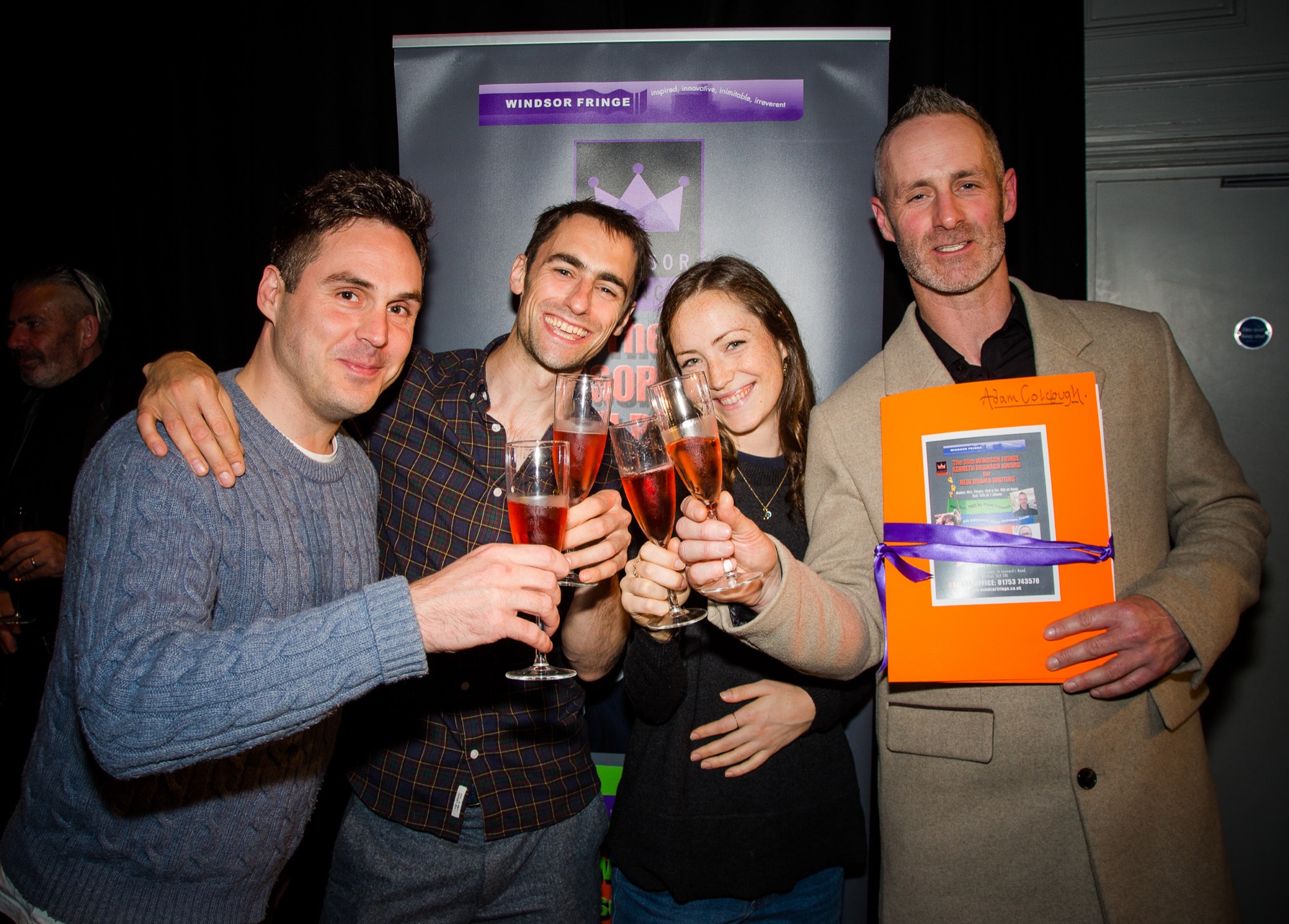 The festival has been a wonderful experience for me and one which I have loved and feel extremely proud to have played a small part in.
A huge thanks to all the readers who give their time and energy so that aspiring writers like me, get the opportunity to showcase their work. Your passion for theatre is to be admired and I applaud you all.
Andrew and Joan for selecting my entry and for their detailed adjudication. I value your words and I thank you both so much for them.
I thank Richard, Oliver & Zoe for blessing my entry with their talent and for giving me so much more than what was down on the page. (I hope you each branch out to other things)
Thanks to David, Lisa & Chris working in the shadows.
Thanks to Karen Darville and I congratulate her on a successful festival.
Thanks to Ann Trewartha and her team for making me feel so welcome and thanks Ann, for guiding me along from being announced as a finalist, all the way through to the final curtain.
New writing, new theatre only happens when people have the courage to take a chance. This award has the balls to do that and I encourage all those undiscovered writers out there to pick up a pen, because the theatre needs new voices! I sincerely thank the Windsor Fringe for letting mine be heard.
Cheers
Adam Colclough
OUR THREE CASTS. THANK YOU TO ALL INVOLVED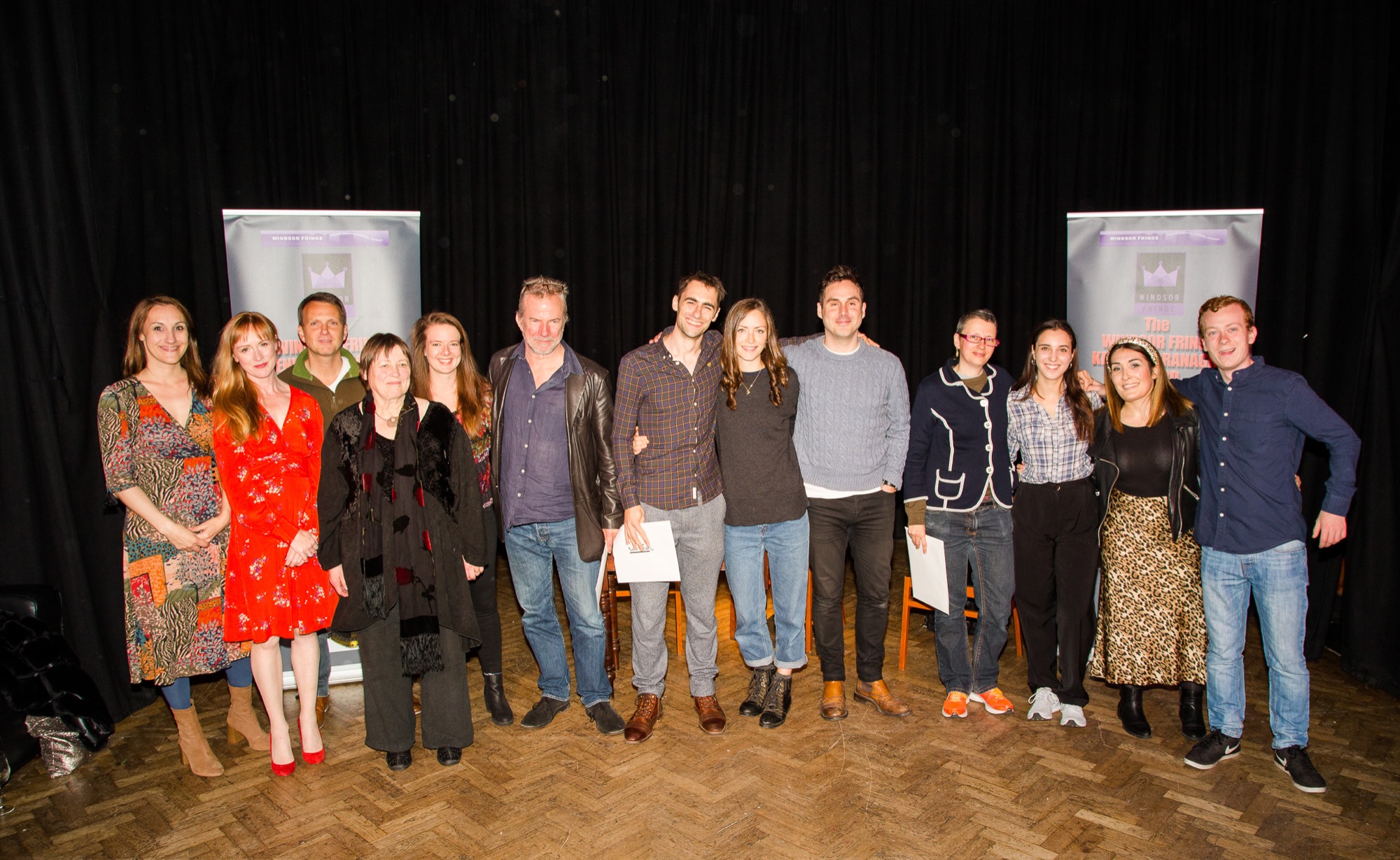 Three writers with bubbly: Pete Barrett, Suzanne Jeans & Adam Colclough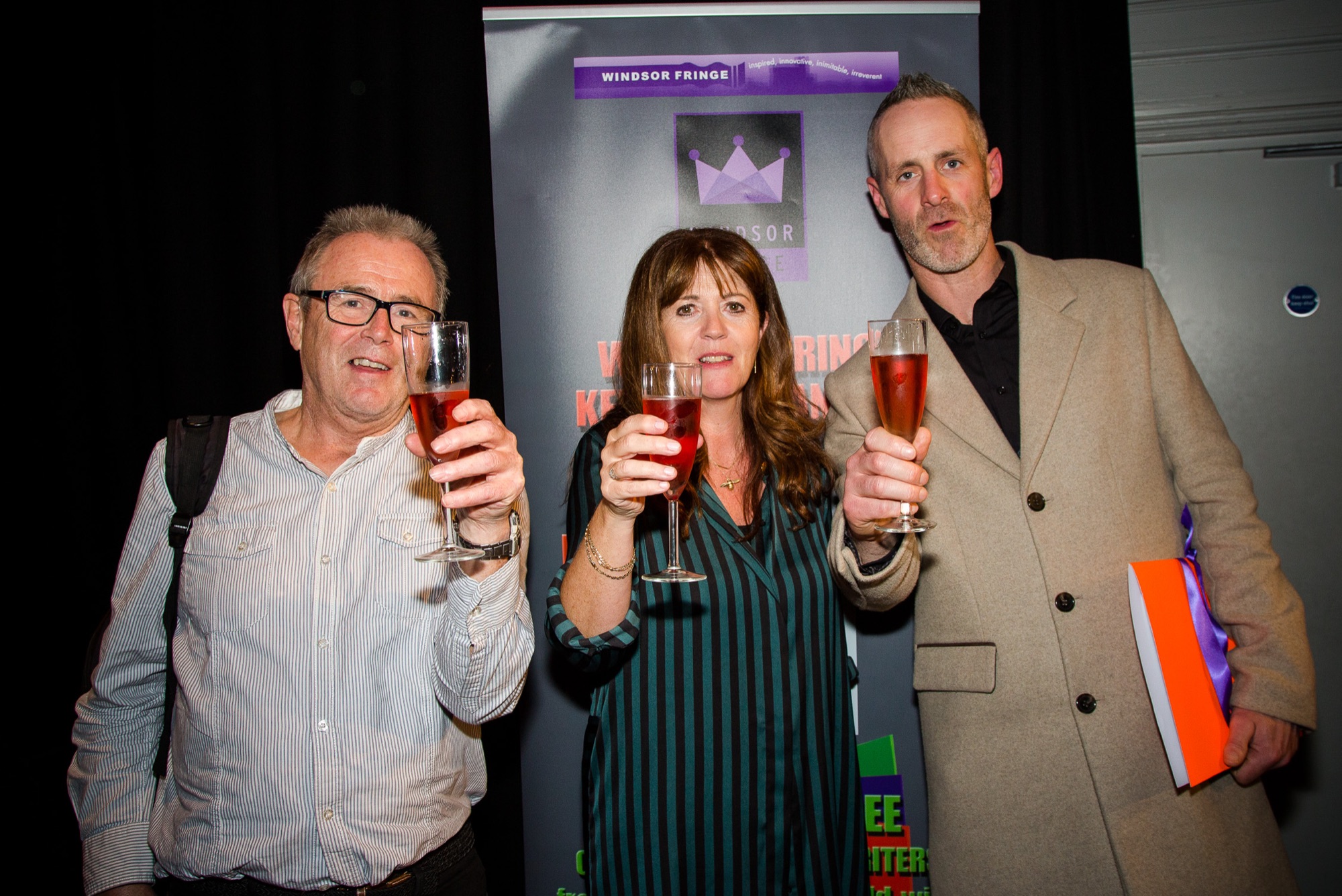 Suzanne cutting Celebration Cake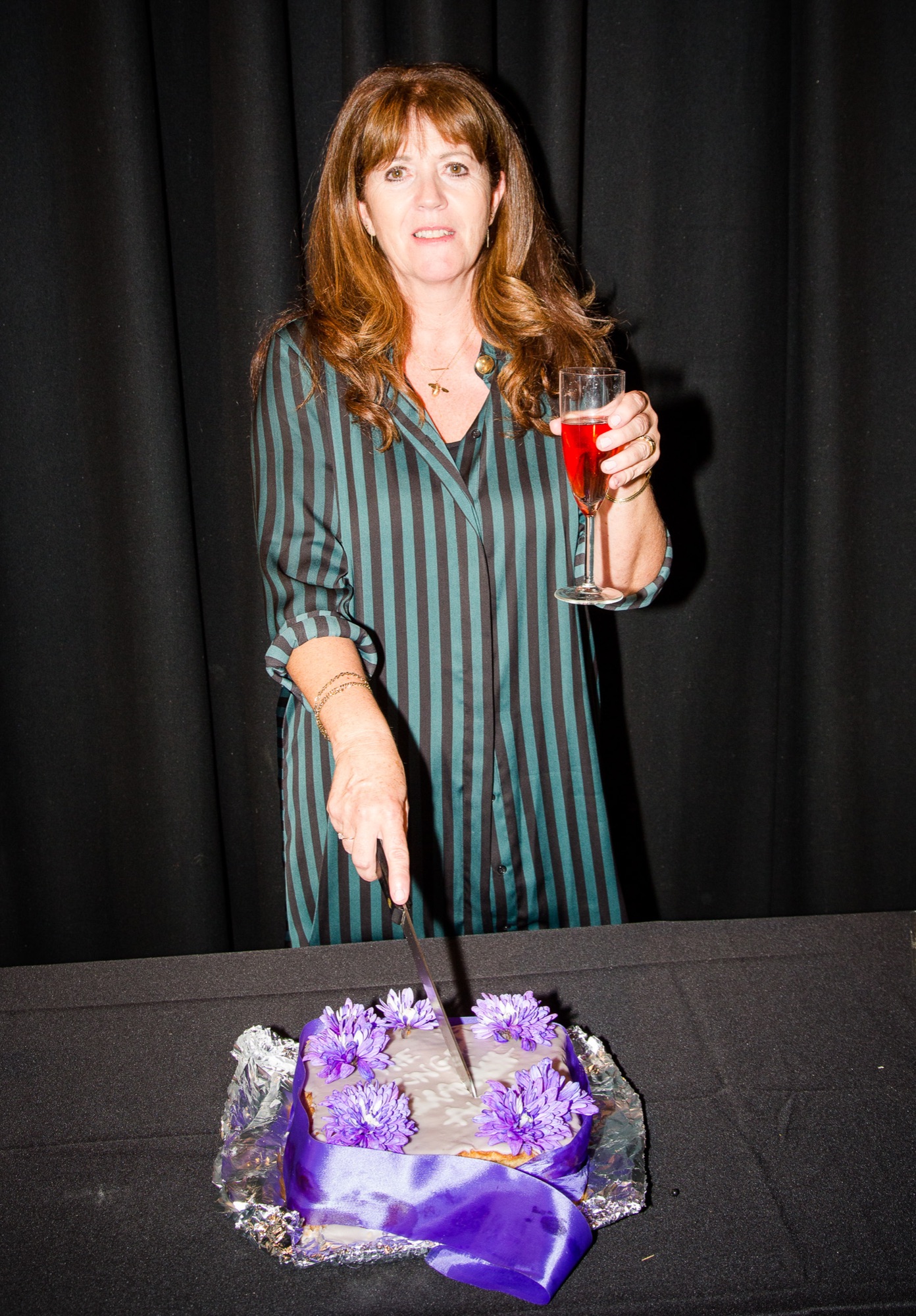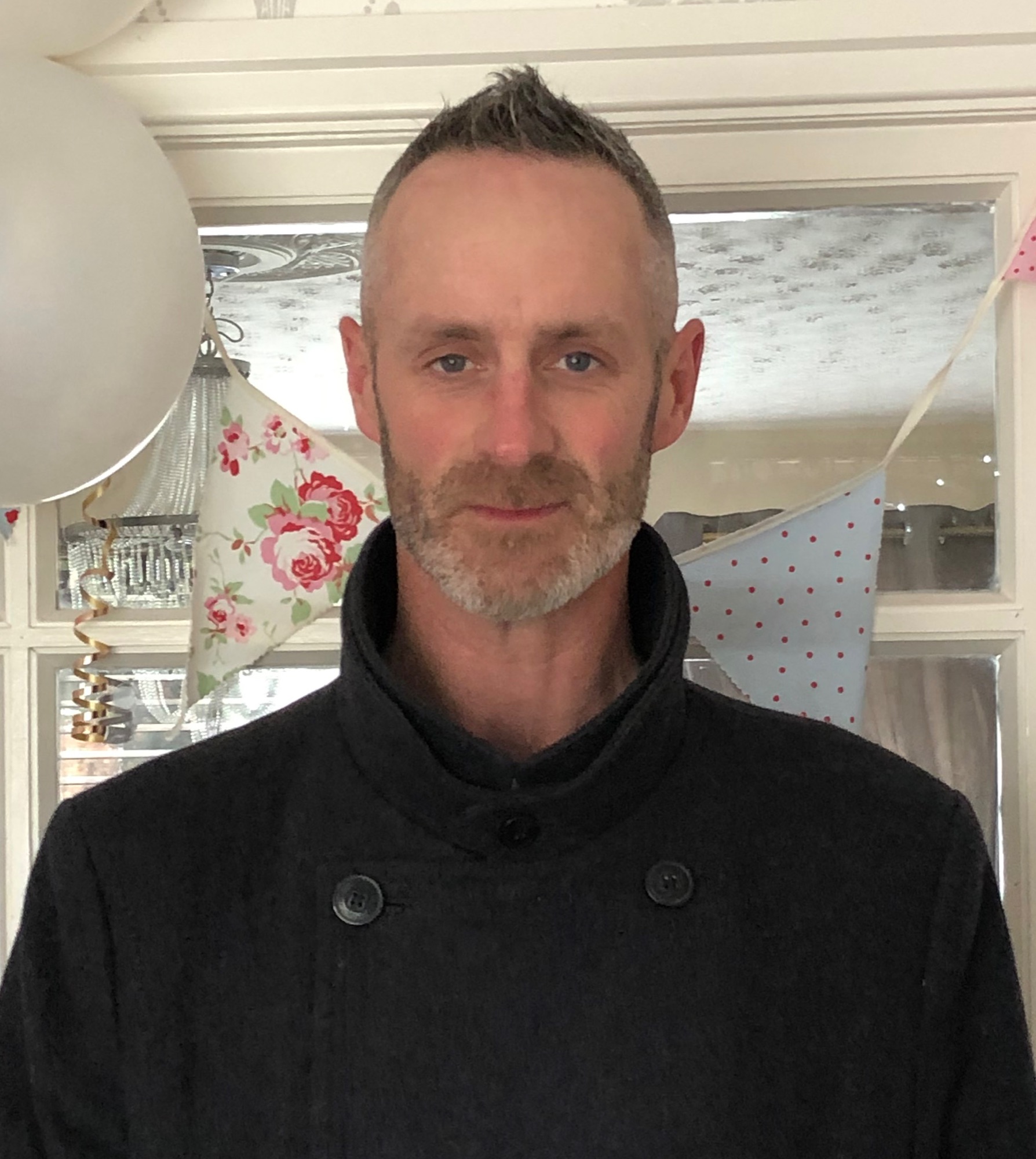 ADAM COLCLOUGH
Adam 's a forty-three-year-old Hod Carrier from Stockport, who likes to write
and would much rather be working on a plot for a play, than a plot for a
building.
After writing a play about five years ago, few years later, I began to get tired
of my wife and daughter rolling their eyes every time my mentioning I was
going to do something with it. So I took it out from underneath the bed,
where it had been gathering dust.
A local amateur society, gave me the opportunity to stage my play and from
that positive experience was encouraged to write more and more, and it has
led me to this wonderful opportunity at the fringe.
Zoe McVicar
Zoe trained at Arts 'Ed: whilst training inc: All My Sins, The Winter's Tale, Reactor & The Three Sisters. She also entered Carlton Hobbs Radio Competition (BBC) & was awarded a commendation. Theatre inc: I Have Two Names (Rich Mix & Cockpit Theatres) The Bard at St. Barnabas (Two's Company Theatre) The Merry Wives of Windsor (The Globe & Sam Wanamaker's Festival) TV. Inc: The Four O Clock Club (CBBC) Film inc: Sleep Warm, Nat's Story (Short).
Oliver Joseph-Brooke
Before training as a mature student at Drama Centre, London, Oliver had amassed many professional credits, progressing onto an acting career after an initial start in the Music Industry as a singer/song-writer. He is focused on Film & TV but relishes being part of the vibrant London Theatre Community.
Theatre inc: Thirty Little Plays on Life (York Theatre Royal) Austen (E Riding Theatre) Side by Side (Tobacco Theatre Bristol ) Beer & Skittles (Colston Hall Bristol) The Mystery Plays (York Minster). Award Winning plays inc: Leaves in Fall by Laura Tovenbeek & Mouth to Mouth by Talor John Marshall.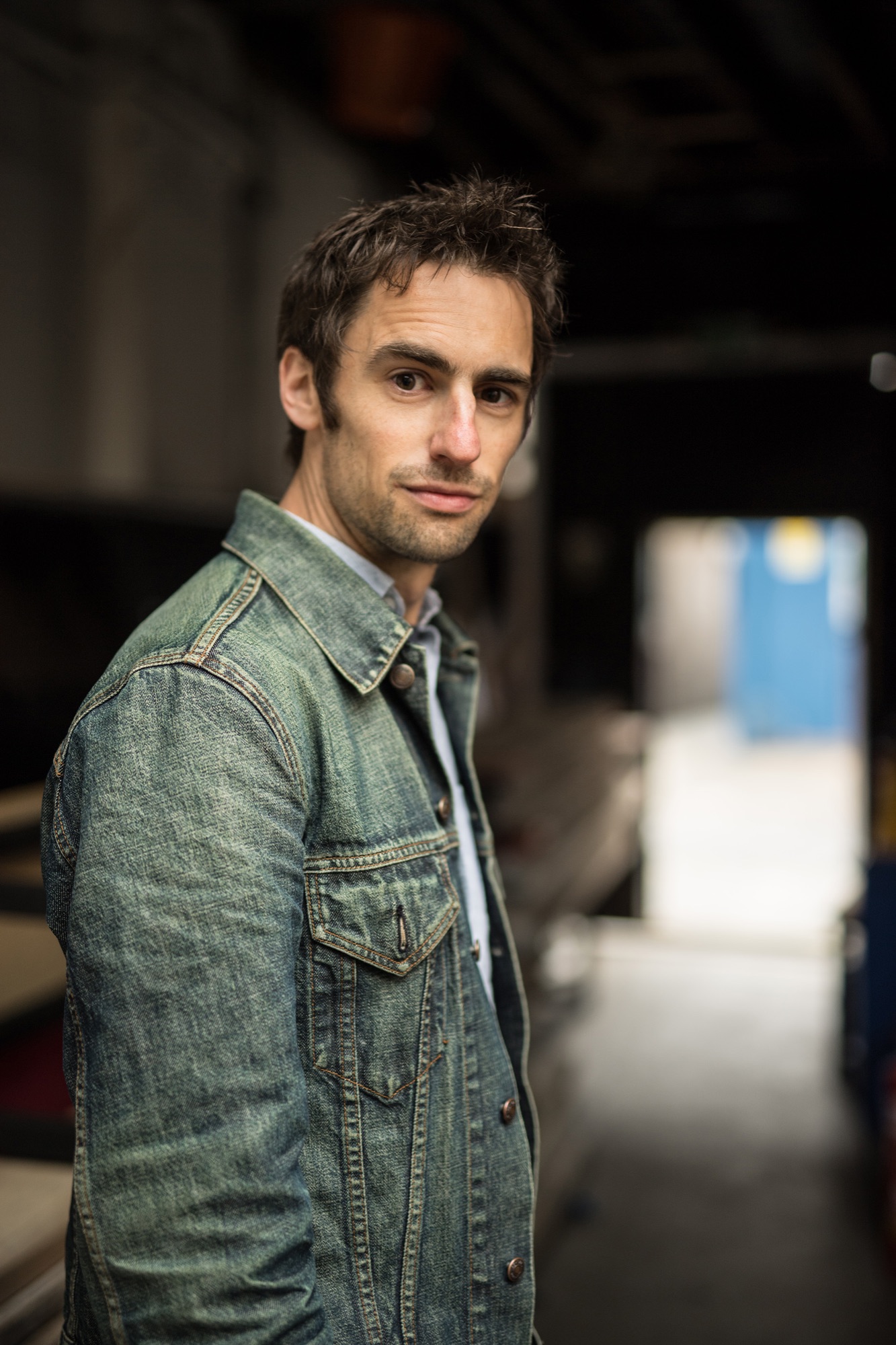 RICHARD ELSON
We are pleased to welcome back Richard, who's very successfully directed three times for us inc: the winner in 2011 WALKING.
Since then, he has collaborated with the writer Tina Jay on several projects at London venues. Other Direction inc: A Royal Mess ( Arts Theatre West End) Banana Crabtree Simon (503) Held & bound (Tristram Bates) Shadow of the Mountain (Old Red Lion) Walk On & Brought to Mind ( Bread & Roses) Dog City ( Lost Theatre)
Film /TV Work inc most notably: A Christmas Star, & BBC's M.I. High
SUZANNE JEANS
Suzanne was born and brought up on the Wirral. After graduating from Uni.Kent with a BA Hon. in Theatre Studies, she qualified as a teacher of Drama /Theatre Studies & worked for over 30 years, before setting up a library in an 11-16 school. She took early retirement in 2017 to care for her mother and is married with two daughters, a husband and 3 - legged cat. Apart from writing, Suzanne also enjoys swimming, walking, reading and pottering in the garden.
In 2018 whilst on Jury Service, she began 'dabbling', joined the Manchester Irish Writer's group and was delighted when her ideas and words were well received by the group. With the encouragement, support and advice of her family, this is her first script, which is semi-biographical.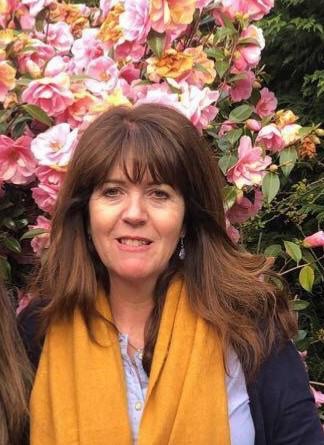 Sarah Lawrie
Sarah studied Social & Political Sciences at Cambridge before training to be an actress. Stage credits inc: the UK premier of The Ephron Sisters Love, Loss & What I wore (Mill at Sonning) Improbable Fiction, Ten Times Table, Gretchen in Boeing, Boeing, (Oldham) Emma Bovary in Madam Bovary, (Hope theatre) Jane in The Treehouse (Brewhouse, Taunton and Touring) Katherine in Restoration (Salisbury) Hannnah in Love Bites (Southwark) Miss Ledbrook Peters in The Life & Adventures of Nicholas Nickleby (Chichester, W/E & Toronto) Stella in Great Expectations, Helen Schwartz in Tales from Hollywood, Anco in Phaedra, (Perth) Lulu in Smoking with Lulu, Tilda in Pal Joey (Glasgow) Celia in Volpone (Theatre Babel) Amy in My Romantic History,(Old Red Lion) Joan Leech in Titfield Thunderbolt (Farnham Maltings) Also numerous productions for New Perspectives Oxford touring Theatre.
Barbara Phelps
THEATRE credits include:
New Writing: Catching Lemons (Abacus Arts); The Green Lady and The Mummers' Play (EastSide Theatre); New Writers Workshops (Battersea Arts Centre) and an OAP obsessed with sex and death in 'Headfirst' (Grip Theatre). Celebration (Players Theatre); Christmas in Jermyn St (Jermyn St Theatre); Wizard of Oz (Cavalcade Theatre); Breaking the Silence (Image Theatre); How he Lied to her Husband (Shaw Festival)
TV / FILM credits include:
Doctors; Eastenders; Filth: The Mary Whitehouse Story; Murphy's Law; Holby City; Grange Hill; Flint; Parting Shots; Counting Backwards.
She currently does a lot of medical role-play and performs at homes for the elderly with an eclectic group of actor /singers.
Mike Duren
Mike trained at Mountview & the Reading Rep.
Mike is delighted to add the Windsor Fringe to his recent run, acting in new works for competition nights & festivals at venues inc: The Stockwell Playhouse & The Rudolph Steiner Theatre Baker Street. Other Theatre credits inc: A grieving father in Simon Stephen's visceral play Bluebird, a hapless hotel owner in the farce Liberty Hall, David Cameron & Tony Blair in Brexical the Musical, as well as a duplicitous Nazi Commander in The Project
TV inc: Channel Five's Autopsy & Commercials for household brands. Mike has been the voice across all ITV for the Disaster Emergency
Committee and he currently freelances as a newsreader for the BBC
Sophie Morris Sheppard
Film Credits inc: Mumbling Mad Dot in Sweeney Todd, Zoe in Fishing, Carlie in Enough is Enough, Kate in Till Death do us Part,( Met Film School) Amanda in Knot, Rebecca Locke in The Para Series. Credits: Sister Spencer in Angels in the Asylum, currently awaiting funding for the feature length production. Sophie is a regular performer with Actors/ Writers London & has also sat on the Play
Selection Committee , Society of Women writers & Journalists also Liars League.
Eloise Jones
Recent Theatre credits inc: Lady Macbeth/Madison/John, Macbeth the Musical & Millie, The Project (The White Bear) Kate, Haenda on the Estate (Oval House) Sarah Tweedy, Game Over (The Bread & Roses) Alex, Disassociated (Soundtrack,Skitzoid Productions).
Workshops inc: Charlie & The Chocolate Factory (Peter Darling, Playful Productions) Greek Theatre Workshops for Verain Theatre
Company member of Skitzoid Productions. Performer/creative director for Stage Splinters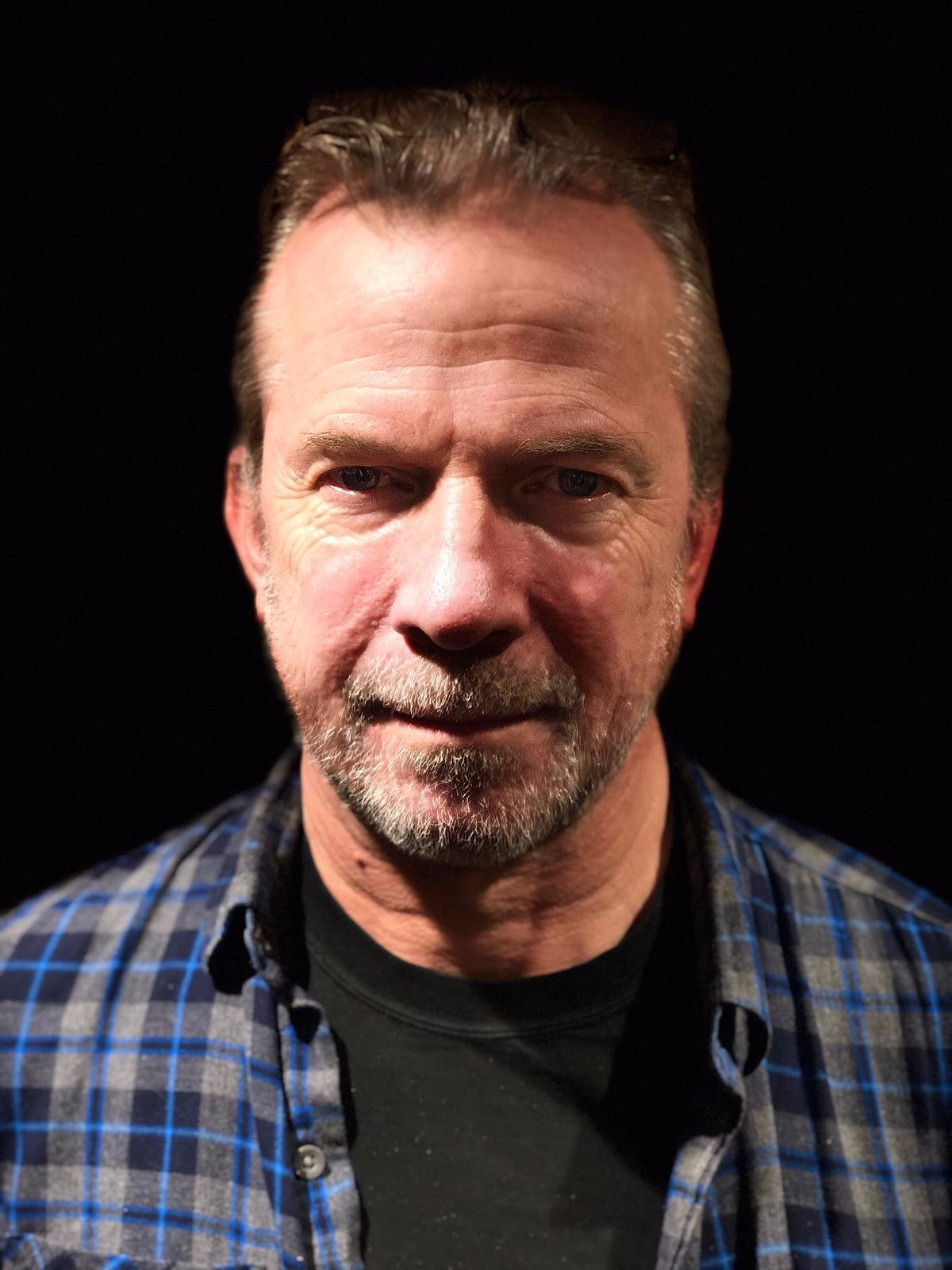 ANTHONY SHRUBSALL
Anthony successfully directed for us before & we welcome him back..
He is a freelance director, founder member of both And Tomorrow Theatre and The Entire Theatre Companies and a former academic. He was a former Artistic Director of the Drayton Garden's Theatre, where productions inc: The Bullett, Landscape, The Lover and Mojo.
Directing inc: It's a Wonderful Life (Old Joint Stock Th. Birm.) Death of a Hunter (Finborough) The Gin Chronicles series (ArtsSpace Edin.) Orbits (Drayton Arms) ReallifeTV (Baron's Court Th.) Saffron Hill (Pleasance Th.) LANZA (King's Head) Zena (Edward's Security BAC) The 1st UK production selected for Shizudka Festival Japan, Richard Jone's Big Heart adapted into a series for BBC4. He has published on directing Vseveoiod, Beckett's Rockaby and the Theatre of Jaques Lecoq.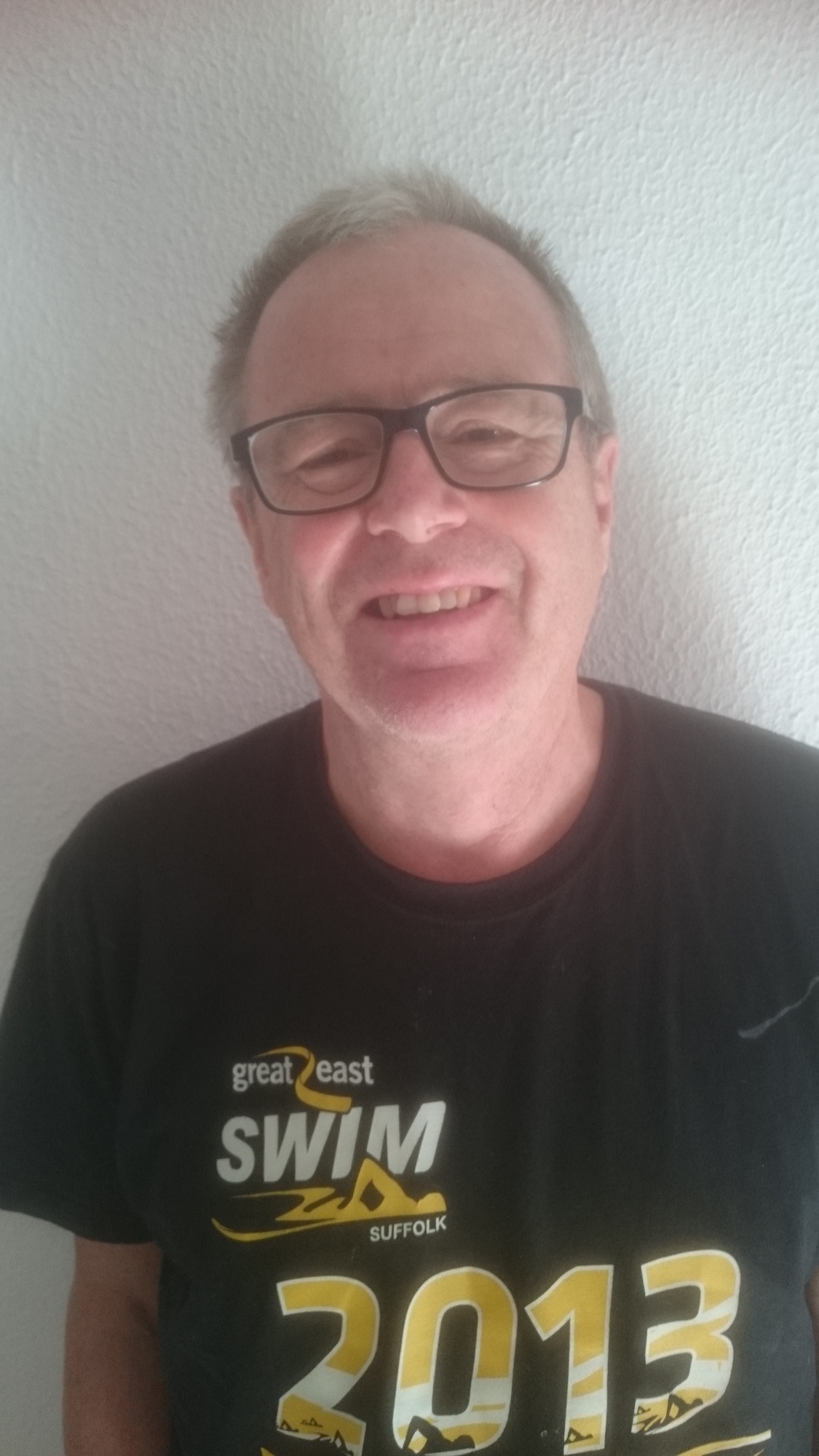 PETE BARRETT
Pete has been writing plays for over 40 years with numerous amateur productions. He has written 11 children's books, short stories for the Interact Charity, dozens of sketches & three musicals. In his spare time he sleeps www.petebarrett.co.uk
Emily O'Mahony:
Emily graduated in Drama from King Alfred's University, Winchester & completed training at Central School of Speech and Drama, London.
Roles include: Maria; An Experiment with an Air Pump (The Royal Court Theatre Upstairs), Elizabeth Bennet; Pride and Prejudice, Mrs. de Winter; Rebecca, (Partnership Theatre), Consuelo; West Side Story, (Pimlico Opera Company); Beverly; Abigail's Party (Maltings/RADA Studios), Sandra/Lauren; The Rats/A Small Step for England (Abbey Theatre/King's Head/ Chapel Playhouse), (Irrational Theatre), Marianne; Constellations, (The Landor), Francisca; West Side Story (Putney Arts Theatre), Prime Minister Evans; King Charles III (Wild Duck Productions).
Eloise Jones
Recent Theatre credits inc: Lady Macbeth/Madison/John, Macbeth the Musical & Millie, The Project (The White Bear) Kate, Haenda on the Estate (Oval House) Sarah Tweedy, Game Over (The Bread & Roses) Alex, Disassociated (Soundtrack,Skitzoid Productions).
Workshops inc: Charlie & The Chocolate Factory (Peter Darling, Playful Productions) Greek Theatre Workshops for Verain Theatre
Company member of Skitzoid Productions. Performer/creative director for Stage Splinters
Pauline Pericaud
Trained since she was 15, Pauline has played on stage, roles from Shakespeare to Moliere. French native, she came to the UK to continue her training with Sam Rumbelow in Method acting & Guildhall's Head of Acting Annemette Verspeak. At college she participated in student films, one of which was critically acclaimed. Pauline is fluent in English, French & Spanish, plays acoustic guitar and also sings and dances, making her a triple threat artist and is looking forward to play roles as diverse from Drama to Science Fiction.
Thomas Deller
Thomas started acting at 8 years old, when he joined The Pauline Quirk Academy (PQA) and has been acting ever since. The wide range of projects he's taken part in inc: An Ad. for The Grasvenor Project, for which he received the "Best Advert Award" at the Charity Film Awards and a feature film Relentless. He's extremely excited to take on this play as the Struggles of Kay are very close to home.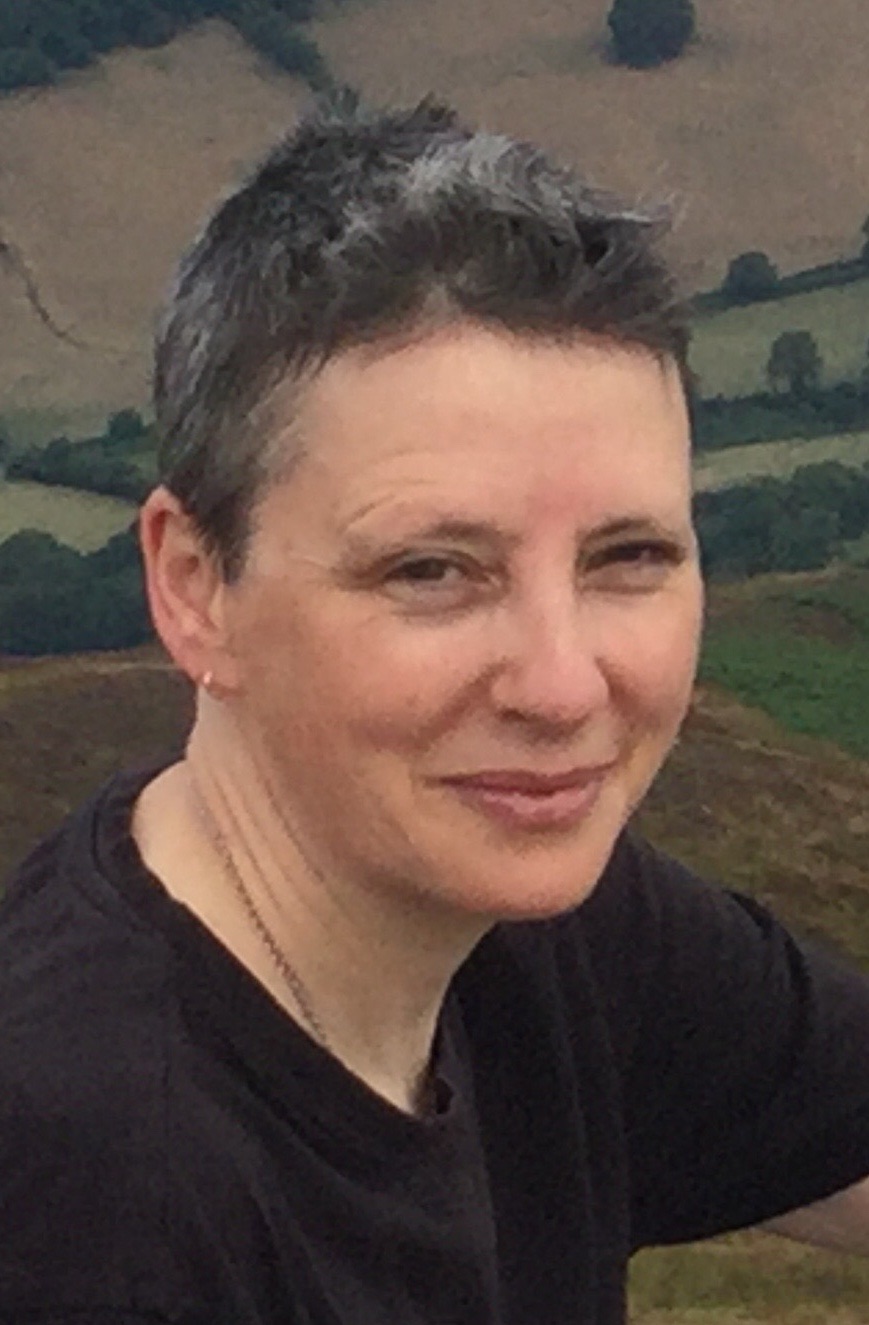 PAULA CHITTY
Paula is a Freelance Director - Designer – Producer. She has, three times, very successfully, directed plays for our Drama Award and we're very pleased to welcome her back.
She has directed and designed over 50 productions in London and on regional tour…from Mike Leigh to Shakespeare and Puccini to Menotti.
She recently premiered Lily and Bear, a new musical for children at The Albert Hall (www.lilyandbearproductions.com) and also recently staged theatre and opera productions at The Southwark Playhouse, The Bunker Theatre ,The Arcola Theatre, The Kings Head Theatre, Upstairs at The Gatehouse, Highgate, Brockley Jack SE4 and The Arts Theatre, West End. She was assistant director at The Royal Opera House and now runs irrational theatre which produces accessible, colourful, original adaptations of operas, new writing and classics.
For full CV see www.irrationaltheatre.co.uk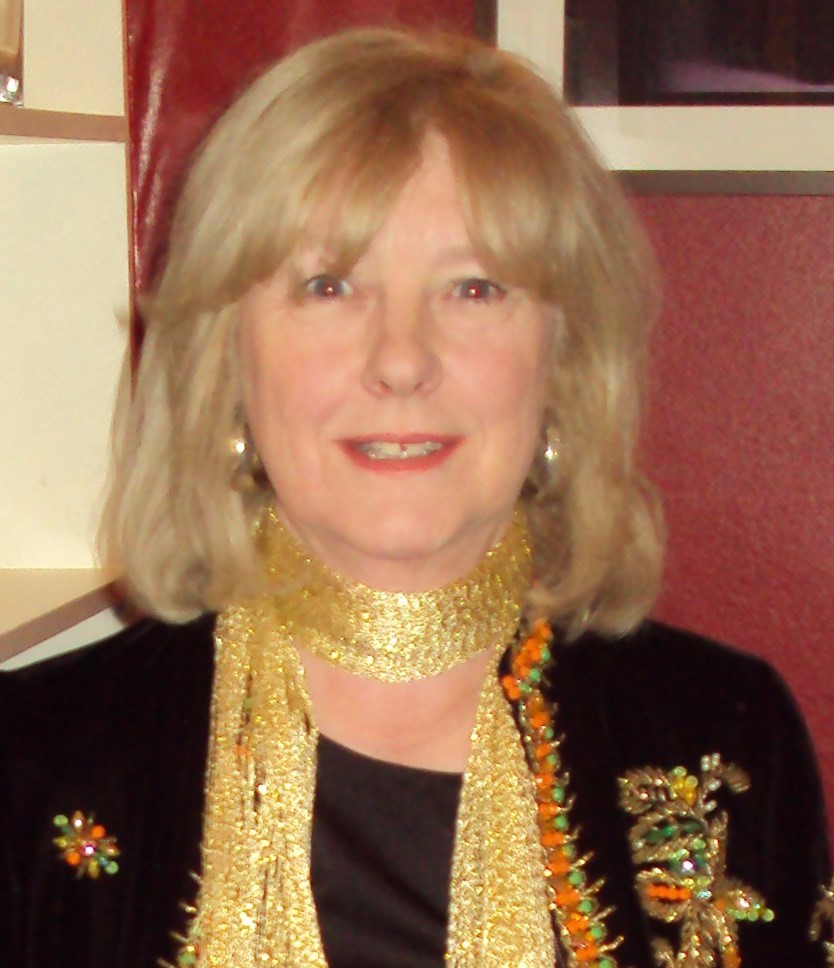 Joan so enjoyed being one of our judges for 2018, that she was delighted to be asked again. She has worked in arts management and production for 30 years. We welcome her "on board" again and we're very fortunate to have her.
Joan is known for having developed the film 'The Kings Speech', directed by Tom Hooper, starring Colin Firth, Geoffrey Rush and Helena Bonham Carter, having discovered the then unknown author David Steidler, and adapting it from his stage play. She trained as a Speech and Language Therapist, with a background as a music scholar and has also worked as a vocal consultant. Her varied work in music, film and television expose Joan to scripts and screenplays. With a background of language, Joan began to work with and edit writer's work/ scripts. She now spends most of her working hours doing just that. Currently four TV series on which she has worked with first time writers are under
consideration and three films are expected to go into production in 2018.

Her company, Wild Thyme Productions, has toured six innovative productions of
Shakespeare's plays in the UK and Germany and mounted world premiere showcases and readings of new plays and musicals in London. She is a member of Musical Theatre Network UK, concerned with the writing of new musicals, and a member of the British Shakespeare Association.

Primarily engaged as a Consultant by the BBC, Joan's skills were used for the recording, filming and Royal Opera House performance of 'The Little Prince'. She was a director for BBC Radio Two and BBC Television's New Talent UK-wide search for the 'Voice of Musical Theatre', involved with background music for the film 'The Actors', coordinated the participation of singing Angels for Stephen Fry's directorial film debut 'Bright Young Things' and worked on the BBC's Promenade Concert/Opera 'The Water Diviner's Tale'. As well as touring with her own company, Joan has worked on several plays at the National Theatre and toured plays with ATG and Pleasance Theatre. She recommends scripts to Russian translator colleagues and two plays were produced in Russia recently.

Joan is working with new writers on two films and three new TV series. She has also developed a screenplay from a radio play and has been commissioned to write a screenplay based on a true story.
The company's latest venture - 'HAPPY WARRIOR, a new play from a 91 year-old first time playwright, ran at 'Upstairs at The Gatehouse' until April 22 2018
(Wild Thyme Productions Ltd ………………………. [email protected])

Andrew was a brilliant director in our 2015 award and we are fortunate to
have him as a judge. He has had many years of experience in drama for the
Theatre and TV and says that "recognizing a good script is essential for any actor and director."
West End inc: 'Kiss Me Kate' Olivier Award Nomination Best Actor in a
Musical, Javert in 'Les Miserables', Judas in 'Godspell', Anthony in 'Sweeney
Todd', the original Eddie in 'Blood Brothers', Sky Masterson in 'Guys and Dolls',
Lt Joe Cable in 'South Pacific', Alderman Fitzwarren in 'Dick Whittington' and
Georges in 'Marguerite and The Go Between'.
National Theatre inc: Tony Lumpkin in 'She Stoops to Conquer', Sky
Masterson in 'Guys and Dolls' and Dolabella in 'Anthony and Cleopatra'. For
Music Theatre London: The Don in 'Don Giovanni', Papageno in 'Magic Flute',
and The Count in 'Figaro',
Other theatre inc: Captain Hook in 'Lost Boy' at Charing Cross Theatre,
Juan Peron 'Evita' national tour, 'Dick Barton Special Agent'. 'Twelfth Night'
(Edinburgh), and 'Radio Times' (Watermill Newbury)
TV inc: 'Victorian Scandals' (Granada), 'Peak Practice' (Carlton), 'Wings' (BBC)
Radio inc: 'The Lorenzaccio Story' and the award winning 'Killing Maestros'.
As director: 'Aladdin' Milton Keynes Theatre, 'A Bowl Of Cherries' Charing
Cross Theatre. 'A Comedy of Arias' Jermyn Street and 'Kings Head', 'Assassins',
'Sauce for the Goose', 'Threepenny Opera', 'Sweeney Todd', 'Man of La Mancha',
four short films 'Stories of 2016' and 'BOO'. Resident Director 'Zipp' (Duchess)
and 'Dick Barton' (National Tour),
Andrew created & amp; directed a short film Home about Homelessness in
London, which had its first screening at The Trycycle Theatre and was shown
at The Houses of Parliament in April 2016.
Recently Andrew appeared as J.B. Biggle in 'How To Succeed in Business
Without Really Trying' at Wilton's Music Hall and directed 'Happy Warriors' at
the Gatehouse Theatre.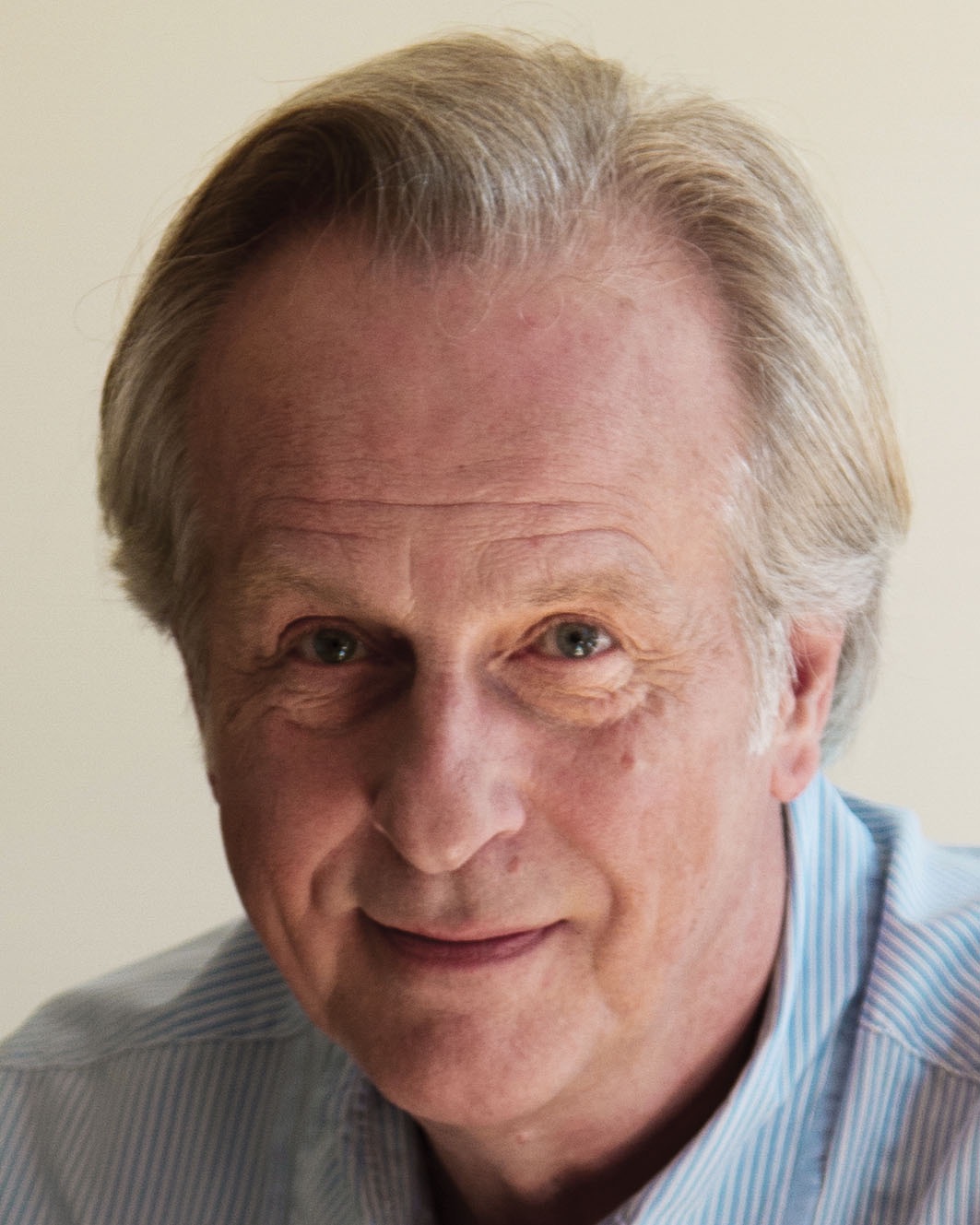 We are pleased to announce the three winning scripts received from 266 submissions, from 23 countries and evaluated anonymously by our 40 readers and the short-list of nine by our two judges: Joan Lane & Andrew C Wadsworth
(In no particular order)
Script No. Title Author
184 The Ice Queen. Pete Barrett (Colchester)
58 An Absence Of Suzanne Jeans (Knutsford)
213 One, Two, TREE Adam Colclough (Stockport)
The other short-listed ; Golden Mile by Sarah A Lacon (Shropshire), Thespian by Brian Young (Tasmania), Whistle Blower by Peter Harrison (Cheshire), The Man Who Almost by Adam Thorn (Wilts), Audience Antics by Andrew Turner (Lancs), Mahatmas by Michael John Simms (S W London).
All three plays will be performed nightly during the Fringe Festival on October the 3rd, 4th & 5th at The Old Court, Windsor, when the overall winner of the £500 prize, will be announced at the Awards Ceremony after the last performance.
www.windsorfringe.co.uk [email protected]
Script no Title Writer
238 DUVET DAY Carolyn Chinn (W. Sussex)
266 THE WAR AT HOME Catherine Higgins-Moore (N .Ireland)
149 RED, WHITE & BLUE GINGER L. Blackwell (N. London)
213 One, Two, TREE Adam Colclough (Stockport)
103 EXCLUDED Clara Shaw (Essex)
22 FREEHOLD Roger Goldsmith (Hants)
246 CONTACTLESS Pete Talman (E.Sussex)
47 MRS ORWELL Mike Pearcy (Burnham)
194 THE SAVIOUR Joe Laredo (Stony Stratford)
104 OUR TIME IS NOW Joel Kaye (Oxford)
257 AUDIENCE ANTICS Andrew Turner (Bolton)
41 THE CENSOR Sarah Isaacs (E. London)
13 LADY IN BLACK Elizabeth Sinclair (Bali, Indonesia)
43 A PROPER KILLING Helen Rana (Bristol)
19 BARK Stephanie Dickson (E. London)
5 AN UNLAWFUL COMPELLING Edwin Preece (W. Sussex)
118 THE NEXT MOVE William Ivor Fowkes (U.S.A)
58 AN ABSENCE OF Suzanne Jeans (Cheshire)
93 NO LEFT TURN Christine Lalla (N. London)
203 A CRITICAL SITUATION Tommy Nicholson (Ireland)
225 MR EVERYONE Rob Keeley (Wirral)
172 MAHATMAS Michael John Simms (SW London)
90 STRINGS Neil Edwards (N. London)
265 THESPIAN Brian Young (Tasmania)
63 WHISTLE BLOWER Peter Harrison (Cheshire)
160 A BAD DATE Colin Bucchan (Exeter)
113 THINK AND FEEL Jake Abbott (W. London)
184 THE ICE QUEEN Pete Barrett (Essex)
227 IMAGINATION GAMES Simon James (Surrey)
185 GOLDEN MILE Sarah A Lacon (Shropshire)
134 THE MAN WHO ALMOST Adam Thorn (Wilts)
31 THE LAST PARTY IN BRUNSWICK Chris Harder (USA)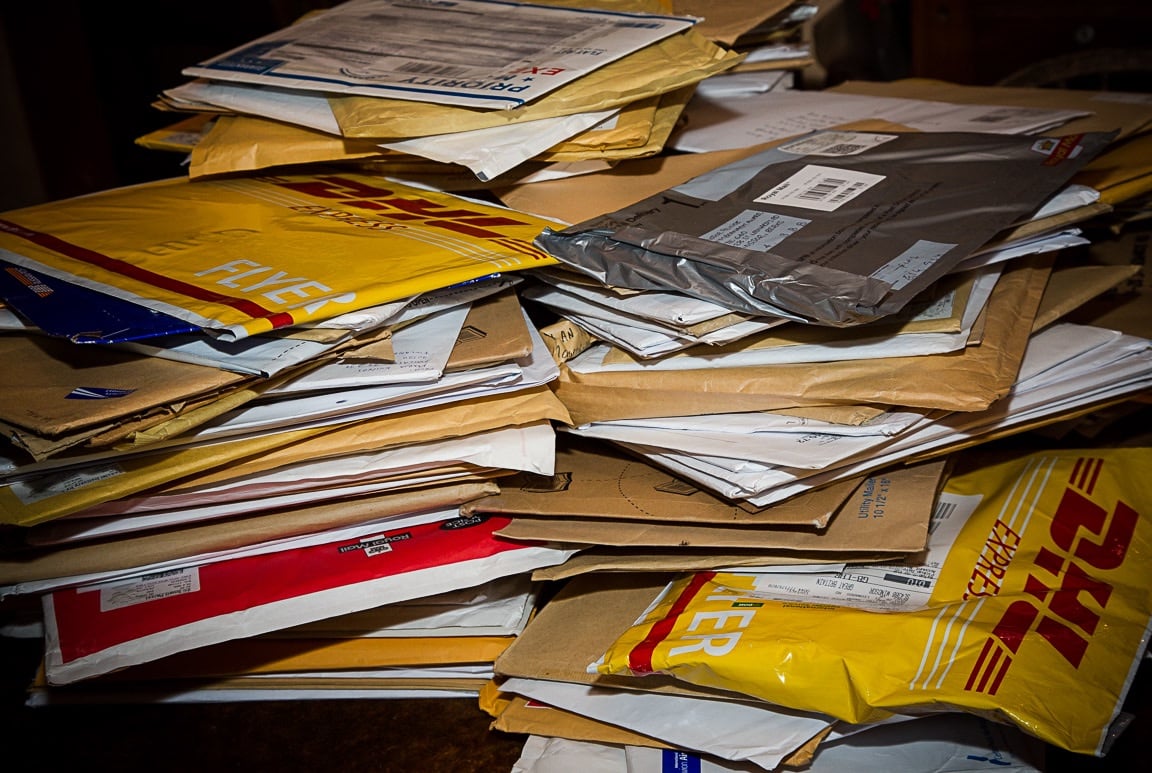 THE WINDSOR FRINGE KENNETH BRANAGH AWARD 2019
We are delighted to have received 266 scripts from 23 countries:
Bali (Indonesia), Belgium, France, Romania, England, Greece, USA, Australia, Scotland, Russia, Canada, Wales, Luxembourg, Finland, N. Ireland, Hungary, Germany, N. Zealand, Portugal, Eire, Switzerland, Tasmania & Slovenia.